Murdoch University today (through its subsidiary Murdoch Singapore Pte Ltd) launched its Singapore Centre for Research in Innovation, Productivity and Technology (SCRIPT), an interdisciplinary productivity research and development centre with an investment value of S$1 million. SCRIPT aims to support Singapore's growth and innovation drive with its integrated approach of bringing government, industry, businesses and academia together to create value through research.
As a leading research-led institution, Murdoch University is committed to enhancing its presence in Singapore, which was central to the decision to set up its first offshore research centre here. This move reinforces its presence in Singapore, which currently sees some 5,000 Singaporeans studying in its degree programmes through its partnership with Kaplan Singapore.
Professor Andrew Taggart, Acting Vice Chancellor for Murdoch University said, "SCRIPT will focus its efforts on looking into ways to help address the productivity challenges of Singapore's industries, as well as ways for Singapore to become more innovative. In the pipeline are plans to look into research on productivity, innovation, food security, health, sustainable future to name a few."
Poised as a contributor to Singapore's Research and Development (R&D) ecosystem, SCRIPT will enable businesses to challenge the status quo by embracing best practices and to push boundaries to become creators of next practice. For instance, in the domain of food security, SCRIPT will explore avenues that can make Singapore's supply chains more efficient, and develop productivity boosting practices in businesses that embrace the use of technologies. SCRIPT also plans to look into the harmonisation of quality and safety standards across the ASEAN region.
In the longer term, Murdoch University looks to contribute to building stronger bilateral relations between Singapore and Australia in areas such as trade and security through SCRIPT. The research centre will also draw on the expertise of the world-renowned Murdoch University Asia Research Centre (ARC) based in Perth, to identify the impact of politics and productivity policy on SMEs in Singapore, and augment itself as a go-to authority on matters pertaining to Singapore and the region.
Second Murdoch Commission
An example of how SCRIPT will be able to aggregate the breadth and depth of academic and applied research across a multitude of sectors can be seen through the Second Murdoch Commission. Titled Food Security, Trade and Partnerships: Towards resilient regional food systems in Asia, this independent research study delivers compelling insights and tailored solutions to challenges facing the Asian region.
With increasing population pressure, urbanisation and environmental determinants, food security is one of the major concerns Asia faces. The research examined food vulnerabilities of the region with scenario projections to year 2035. It then proposed solutions in which Australia and Singapore can play an important role to address these risks especially in light of landlocked Singapore's dependency on food resources from the region.
The research study was co-chaired by Emeritus Professor John Edwards, Murdoch University (former consultant to Food and Agriculture Organisation in China), and Professor Mely Caballero Anthony from Nanyang Technological University (NTU), together with a diverse group of 11 international subject matter experts. The research study examined the realities of food production systems and investment policies for food security, innovation for food security, value chains, trade, and safe food systems through consultations across Indonesia, Vietnam, China and India conducted over nine months.
The recommendations included:
Harmonising food standards across Asia;
Taking a uniform approach to the identification and management of biosecurity threats;
Developing and promoting the adoption of new and improved environment-friendly technologies;
Interventions to help smallholder farmers reduce costs and increase effectiveness of disease control;
Increasing public investment in infrastructure and research and development, especially in countries where it is low relative to agricultural GDP;
Reforming land regulation including tenancy rights;
Speeding up free trade agreements and food market liberalisation regionally and globally and communicating the benefits of this between countries;
Establishing an independent pan-regional food security agency;
Communicating the merits of GM products across the region.
This research hopes to contribute to future policy development and promote enhanced collaborations between national and regional organisations for education, training and development. It underscores the importance of fostering stronger international and industry linkages, pursuing interdisciplinary research, and exploring new teaching and learning capabilities for Singapore, Australia and the region.
Partnerships and collaborations
With the Second Murdoch Commission as the starting point, SCRIPT will leverage on the world-class research capabilities of Murdoch University. It will also strengthen its partnership with the public sector via local institutions such as NTU, local authorities such as SPRING Singapore, Agri-Food and Veterinary Authority of Singapore, and the Agency for Science, Technology and Research (A*STAR), as well as the private sector in Singapore to develop and deliver multi-faceted solutions tailored to the myriad productivity challenges facing the country.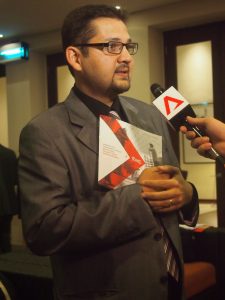 "Working in partnership with industry and government, SCRIPT will tap into its international network of R&D partners which include the University of Exeter in the UK, Steinbeis University and FAU Erlangen-Nurnberg in Germany, to help businesses create new value by building productive capacity through technology-enabled innovation," said Associate Professor Chris Vas, Director for SCRIPT.
SCRIPT builds on the success of a S$0.5 million National Benchmarking Study on Innovation and Productivity of SMEs in Singapore's Manufacturing Sector for the Singapore Innovation and Productivity Institute (SIPI), which concluded in June 2015. The development of SCRIPT aligns with Murdoch University's Research Vision to be a leading international research-led university pursuing excellence in select areas of knowledge production and dissemination, as outlined in the university's Strategic Plan 2012-2017.
For more information about the Second Murdoch Commission, please visit:
http://bit.ly/SecondMurdochCommission
To download the full report and other materials, please visit: